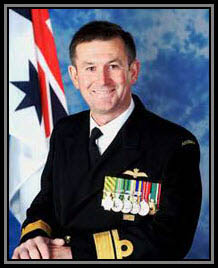 Rear Admiral accepts the position of Patron for the Royal Australian Navy Band Association.


The Royal Australian Navy Band Association has been honoured with the acceptance of Rear Admiral Mark Campbell (Rt'd) as its new Patron.
At the Associations 20th Anniversary Celebration Dinner, Rear Admiral Campbell was approached by our Secretary Ralph Daines to become our new Patron. This was the day after the association accepted incorporation and the idea/motion/suggestion of approaching a serving senior officer of the RAN as a preferred candidate. Following is a bio taken from the Navy.gov website.
Rear Admiral Mark Campbell
Head of Navy Capability
Rear Admiral Mark Campbell, CSC, RAN is a Helicopter Warfare Instructor with substantial aviation, command, acquisition and sustainment experience.
He has about 3,500 flying hours mainly as an anti-submarine tactical co-ordinator in Sea King and Seahawk helicopters. He has also flown S2-G Tracker, UH-1B Iroquois, Wessex 31B, Bell 206B-1, and AS350B Squirrel aircraft and served in HMA Ships Tobruk, Sydney, Darwin and Adelaide as well as HM Ships Illustrious and Invincible whilst on exchange with the Royal Navy. He commanded 816 Squadron 1999 - 2000 and has led several Defence Material Organisation units including an appointment as the Head of Helicopter Systems Division 2010 - 2012.
Operational deployments have included Operation Bursa, Operation Damask including Operation Desert Shield and Desert Storm in 1990 - 91 and in the North Red Sea enforcing United Nations sanctions against Iraq in 1992.
He has a Master of Arts in Strategic Studies from Deakin University.
A keen sportsman, Admiral Campbell has toured New Zealand, England and South East Asia with the ADF cricket teams, as well as representing the Navy in soccer and tennis. He enjoys mountain biking, bush walking, and reading military history.
Admiral Campbell and his wife Sally have three adult sons.
He took up his current appointment as Head Navy Capability in October 2012.
Rumour has it that Mark plays Trombone though not confirmed just rumoured.