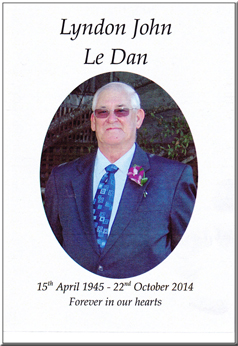 IN MEMORY, Lyndon (Puss) Le Dan
Lyndon's family and friends gathered at the Weeroona Chapel, Dandenong South to celebrate his life on Thursday the 30th of October 2014
As I write this I'm listening to "Blue Water Men" which I think Puss would have agreed, was one of the highlights to his Navy musical playing career. On 1st Cornet along with Paul Williamson and John Doyle, along with Keith McGuiness, Jim Anderson and John Ezergalis they produced the excellent sound we listen to today, remembering the arrangements were by the best composers/Arrangers in Australia and they expected it. The music at the end of the service included Navy Bugle Boy and Blue Water Men, which was a fitting choice by Anita and family.
Melbourne produced a perfect day for the service and the attendance by ex-Bandies and their partners was greatly appreciated by Anita. Members of the local Bands Lyndon play with were also in attendance and the numbers swelled with close friends and relatives.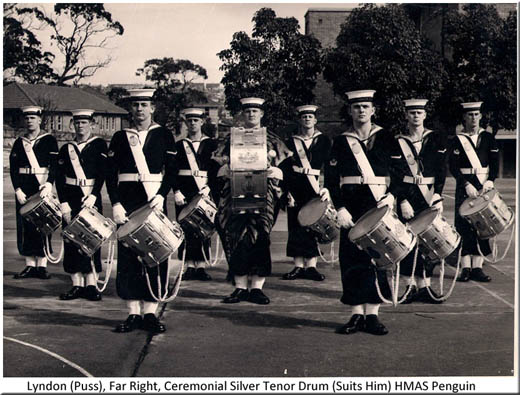 The service started with a packed chapel and the celebrant called on Len Nurse to give a Eulogy on Lyndon's Navy career with a few funny stories along the way. The RSL Ceremony was conducted by Tom Barnes from the Cranbourne RSL and the Bugler was our own WO Dale Granger who offered his services to his teacher from the Navy School of Music.
The service concluded and the gathering slowly (Peak Hour Traffic) made its way to the Cranbourne RSL for the wake. Those that attended the service were Eric Cross, Kevin Hillier, Barry & Pat Pollock, Gordon & Dot Crompton, Alan Woodhouse, Paul Farrugia, Doug Antonoff, Ken Brown, Kym Rushworth, Bill Collins, Mal & Gail Codling, Jan Atkins, Jo Gwynne (Nellie was unable to attend), Mick & Fran Reed, Len & Maree Nurse, Errol & Sharon Hatch and Stephanie McCorkell (Monk) and her cute 11 week old baby, (Apologies if I missed anyone).
A beer or two were enjoyed with family and friends at the very nice Cranbourne RSL and discussions were had, that we are losing too many of our colleagues too soon. There was a commitment not to meet a another funeral but at the next Victorian BBQ in November.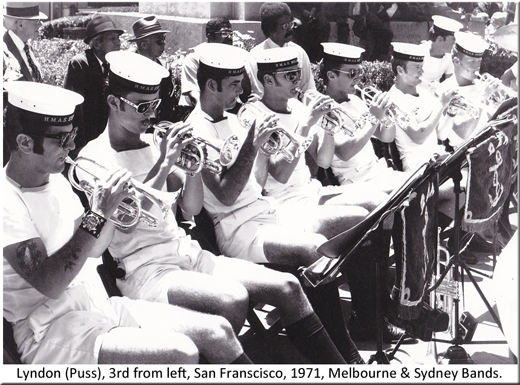 We thank Anita and family for letting us remember Lyndon (Puss) on this sad occasion.
R.I.P
Lyndon (Puss) Le Dan
2014