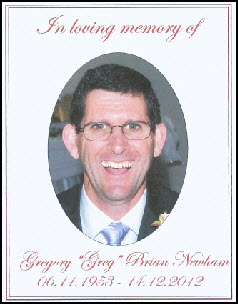 IN MEMORY, Greg, Newham,
06-11-1953 - 14-12-2012
.
Hundreds gathered to celebrate Greg's life and the stark reality that someone special was no longer with us.
The Day was overcast and the humidity was high (for us Victorians) but the Chapel was overflowing with mourners for the funeral of Greg Newham. With Glenda and his children Melanie, Brad and Kelly, brothers Bob, David, Dick, Richard and sister Sharon welcoming friends and relatives the service commenced as light rain started to fall. Gregs influence on so many was apparent with the age groups in attendance and the service told of his inspiration to his students and all those that came into contact with him over the many years he taught and time in the Navy. As always his personality was at the fore from the choice of his favourite songs and some of the anecdotes mentioned through the service.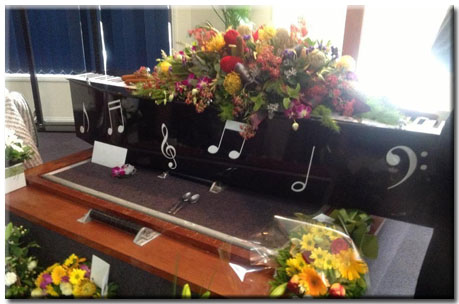 Glenda added a special touch by having the casket carry musical notes, a keyboard across the top, His loving Green perspex Ludwig Drumkit and of course a set of spoons and a bottle of Port. Many Ex-bandies were in attendance and we were priviliged to be represented by Ken McCallum who gave us some hilarious stories of Greg's time in the Navy and then Peter Martin reading the "ODE". John Lennon sounded the Last Post followed by Revielle and the service concluded with more of Gregs favourite songs.
Afternoon Tea was served after the service and then the wake was held at the Logan Bowling Club where family and friends celebrated Greg's life. Harry Royle with his trusty IPAD recorded some of the service and photo's of the gathering which are featured in this tribute.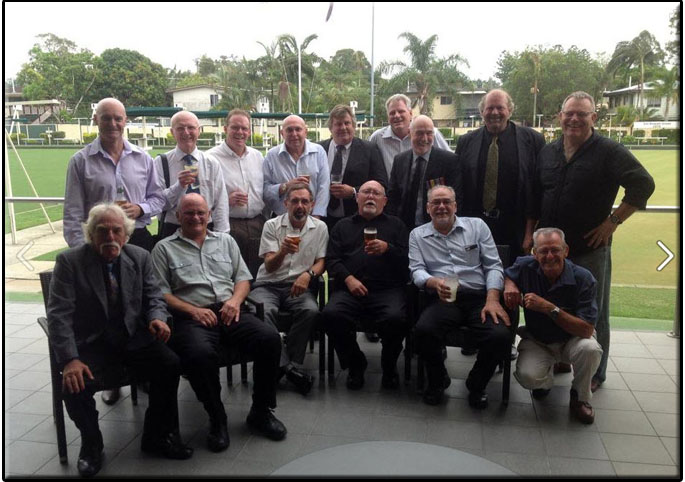 Those ex-bandies that attended were, Peter Martin, John Lennon, Ed Thring, Leon Stucas, Ken McCallum, Gary Sander, Taffy Thatcher, Geoff Bunce, Bevan Andrews, Blue and Gail McNally, Harry Royle, Guy Scruton, Andy Will, Jim Henshaw, Andrew Stapleton, Kevin Buttons, Geoff McGuinness, Errol and Sharon Hatch. (Apologise if I missed any and spelling).
This year (2012) has seen so many of our mates depart us but this day was even more devastating as Greg departed us so young.
To Glenda, Melanie, Brad and Kelly our deepest condolenses and you remain part of our musical family, the Royal Australian Navy Band.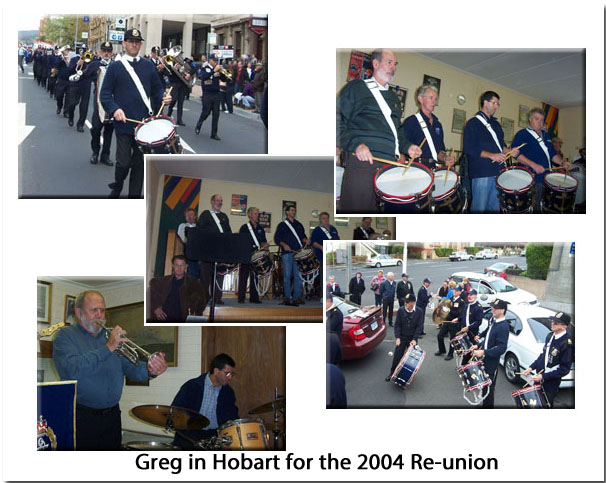 (Below) HMAS Penguin, 1986, Greg Newham, Front row second from left.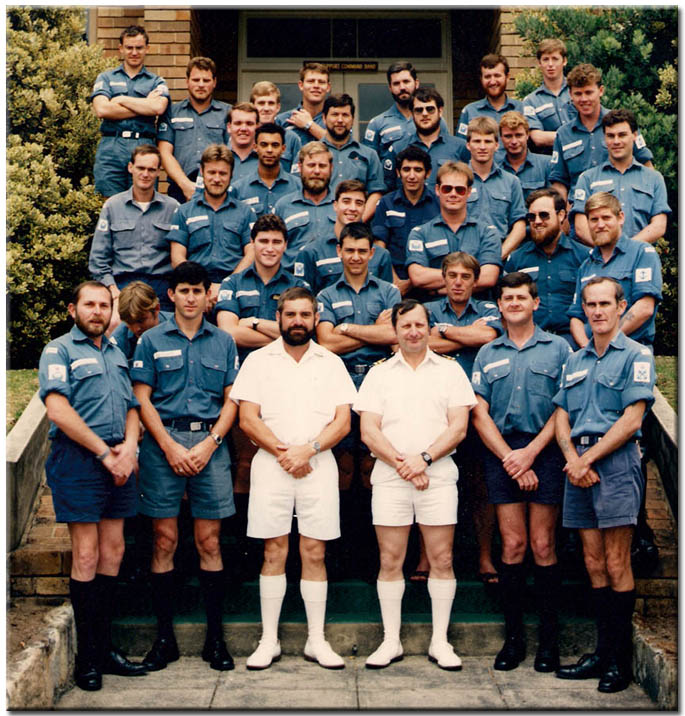 Gregs burial at sea took place off the coast of North Queensland on HMAS Sydney where his ashes were scattered. The photos were provided by Glenda.