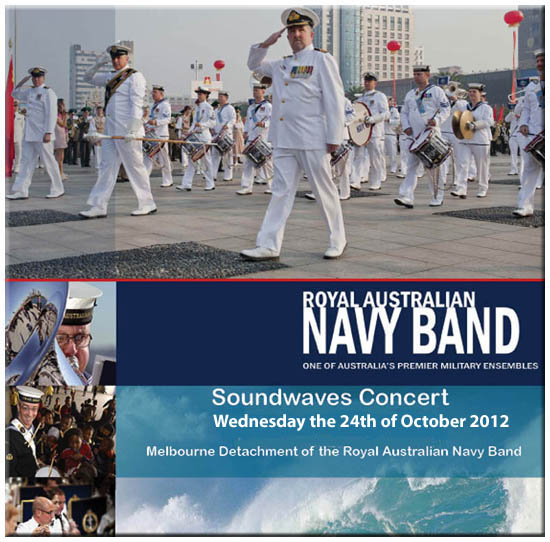 Soundwaves Concert, Wednesday the 24th October 2012, HMAS Cerberus.
A Review.
The program showed the versatility of the Melbourne Detachment and the dedication to their shipmate. 
From the first selection "Morning, Noon and Night" you could tell that the band was on song and we were going to be entertained with some interesting selections. As Lt Matthew Klohs' mentioned in his opening welcome these were some of his favourite concert band selections from the likes of Host, Elgar and Grieg. The Second Suite in F followed and the audience recognised it immediately.
We were treated to four selections by the now well established Woodwind Trio and then the Brass Quintet gave us "Quintet" containing five movements. My only comment from watching the audience from the back row was that the two ensembles together seem to make them restless.
The Enigma Variations followed and the program notes gave us the story of their significance. We were then treated to a wonderful performance of Ave Maria by Vocalist, Able Seaman Stephanie Monk.
The evening finished with "Ode To Joy"
The night was dedicated to LSMUSN Colin Hughes who was killed in Cairns while there for Navy Week. A special Bank account has been setup for donations to his young family. The details are,
LSMUSN HUGHES FAMILY FUND
ACCOUNT NAME: KAY HUGHES
BSB:  062136
ACC No: 10362964
CBA CARINGBAH. NSW
Donations would be gladly appreciated.
Look forward to the Concert in November.