MEMORABILIA

This section devotes itself to all those treasured pieces that were collected as we went about our duties. We kept them for prosperity, why, good question at the time, but now we can look back at them and reflect. If you have anything that reflects your time in the Band let us know.
INDEX
SCHOOL OF MUSIC PROMOTION LEAFLET (John Lennon)
ROYAL AUSTRALIAN NAVAL RESERVE OPEN DAY 1989
SYDNEY OPERA HOUSE OPENING (Greg Newham) 1973
A MUSICAL EVENING, GOVERNMENT HOUSE, CANBERRA, 1981
HMAS PENGUIN EMBLEM (Gerry Foster)
WARDROOM MESS DINNER, BATTLE OF TRAFALGAR, HMAS CERBERUS, 1977
HMAS MELBOURNE CARTOON By Paddy O'Leary (Rob Himbury)
THEORY OF MUSIC DIPLOMA 1970
SYDNEY OPERA HOUSE OPENING CERTIFICATE 1973
DEFENCE SCHOOL OF MUSIC PROGRAM 1992
 SCHOOL OF MUSIC PROMOTION LEAFLET
Produced in 1969 and released in 1970 all the boys were from the school from what looks like the 1968 intake. Recognised faces are Louis Burdett, Pat Gallagher, John Lennon, Taffy Thatcher, Fred Blake (Cornet), The Hanratty Brothers, Red Hillier, Gary Sander, Jacko(F/Hn, Gtr), Michael Robinson, Shorty Butler and a couple of faces I can't pick, maybe you can.......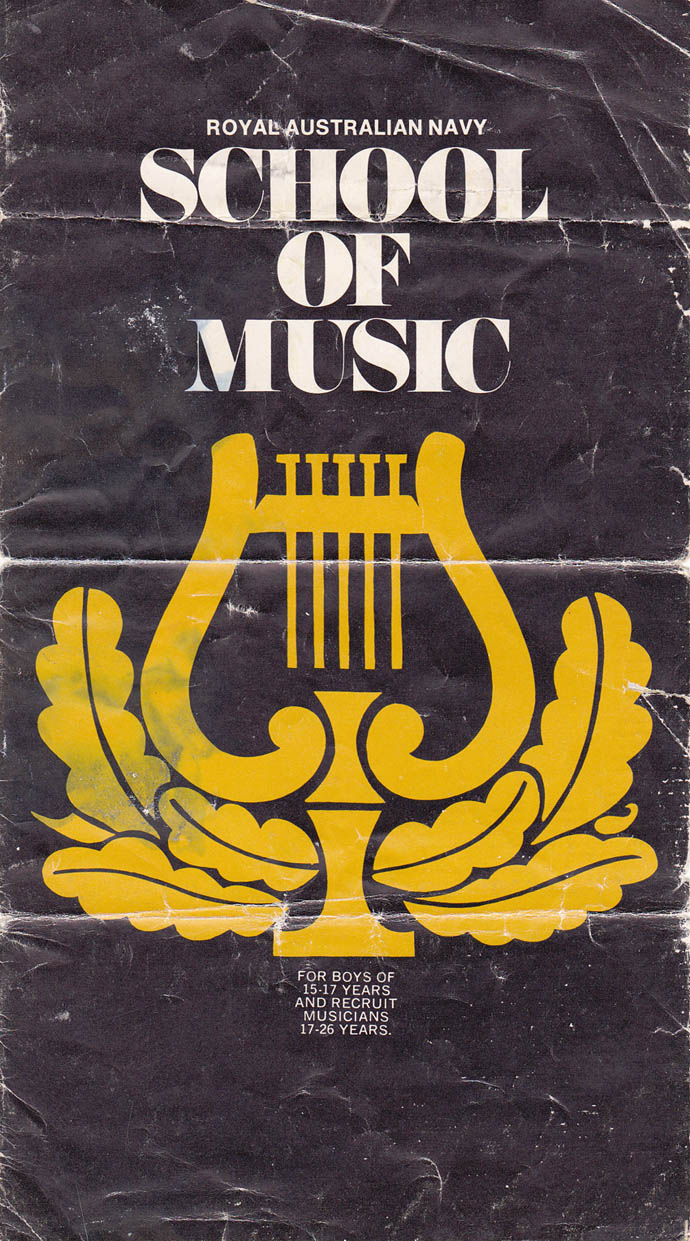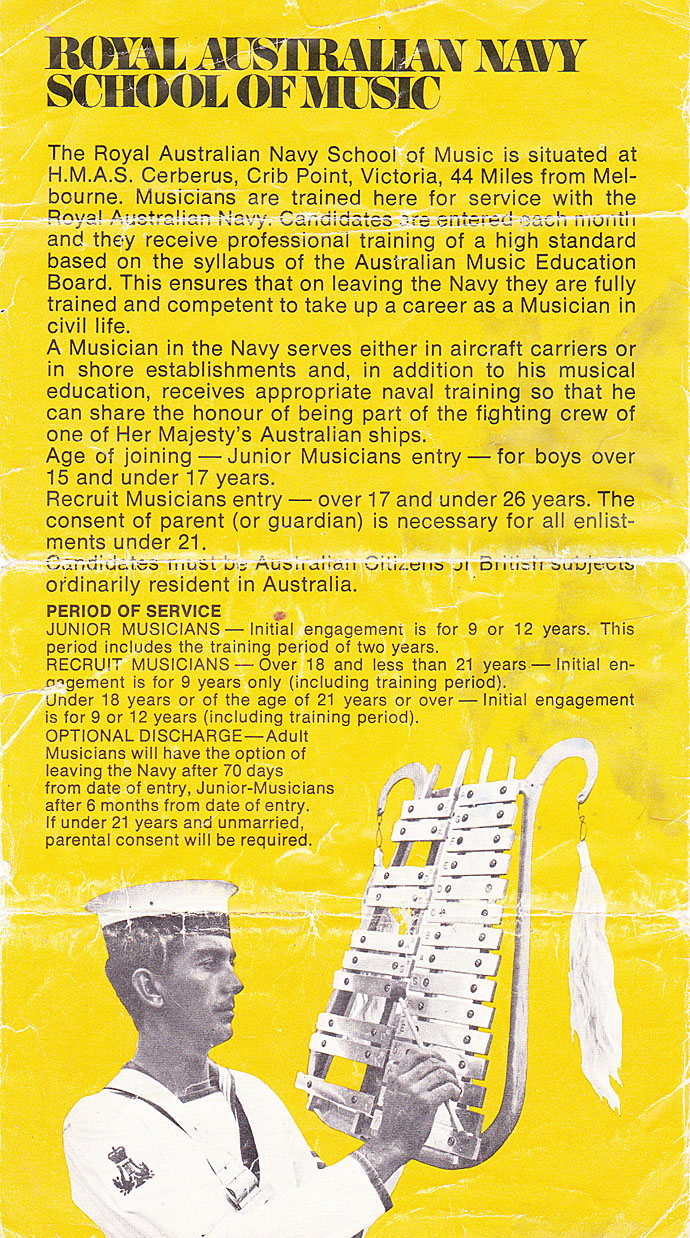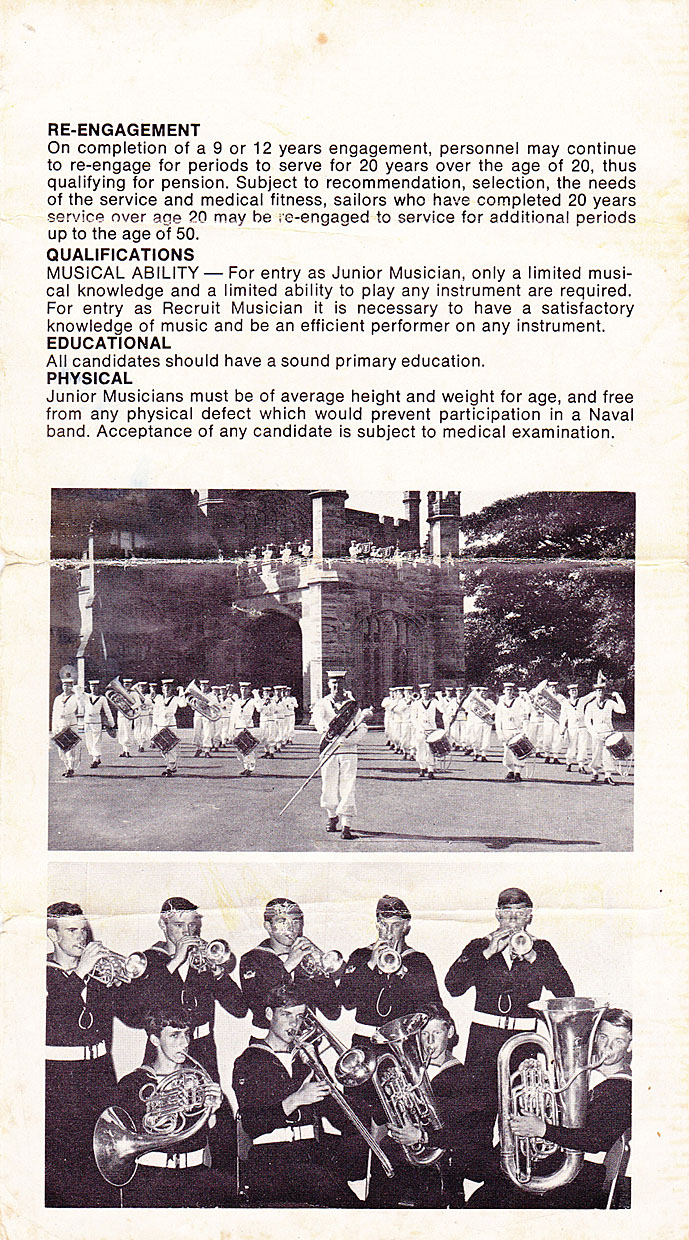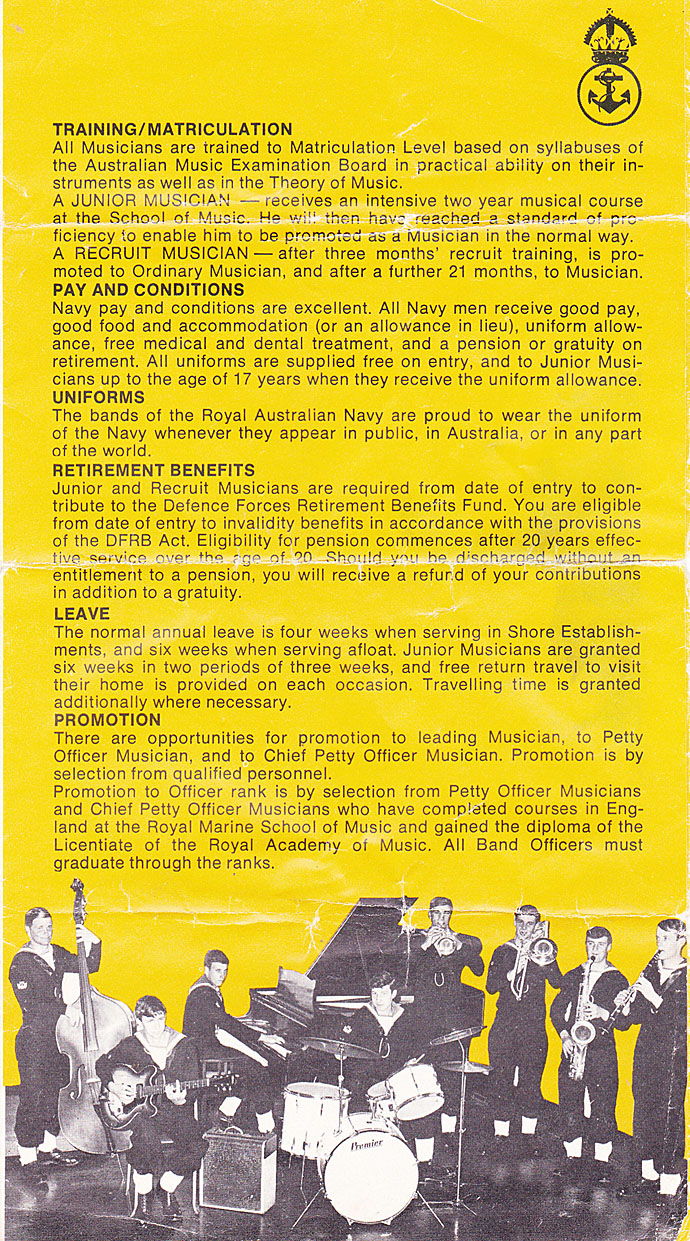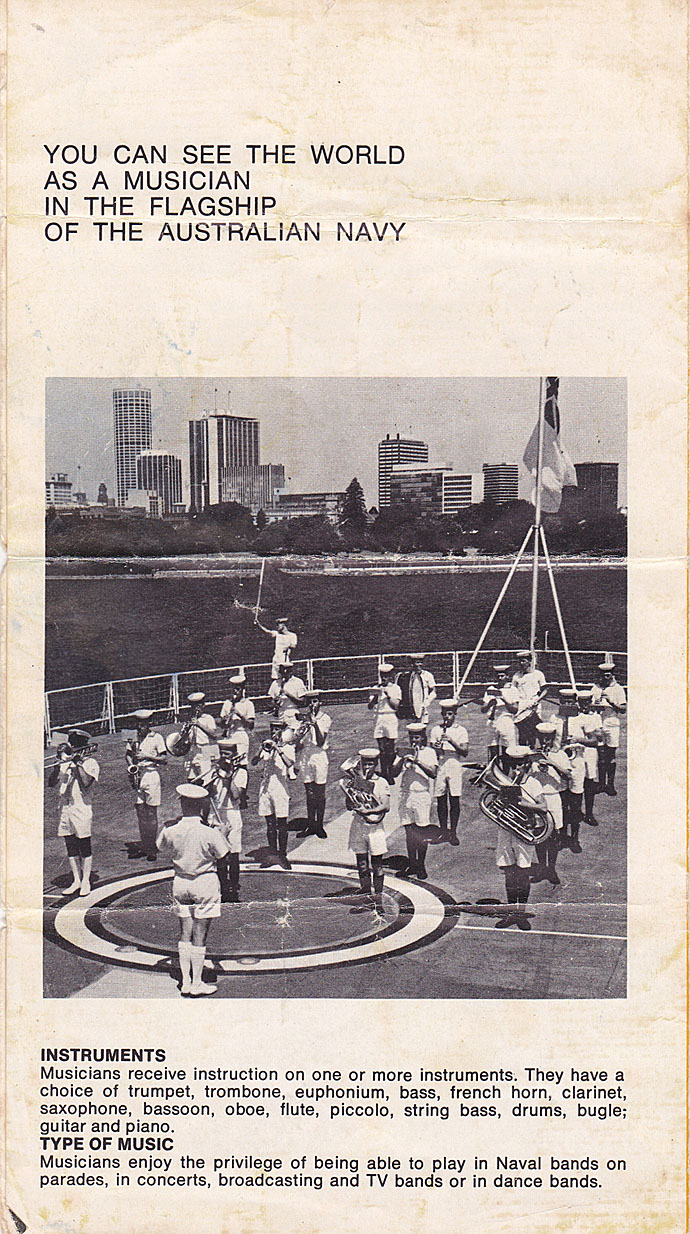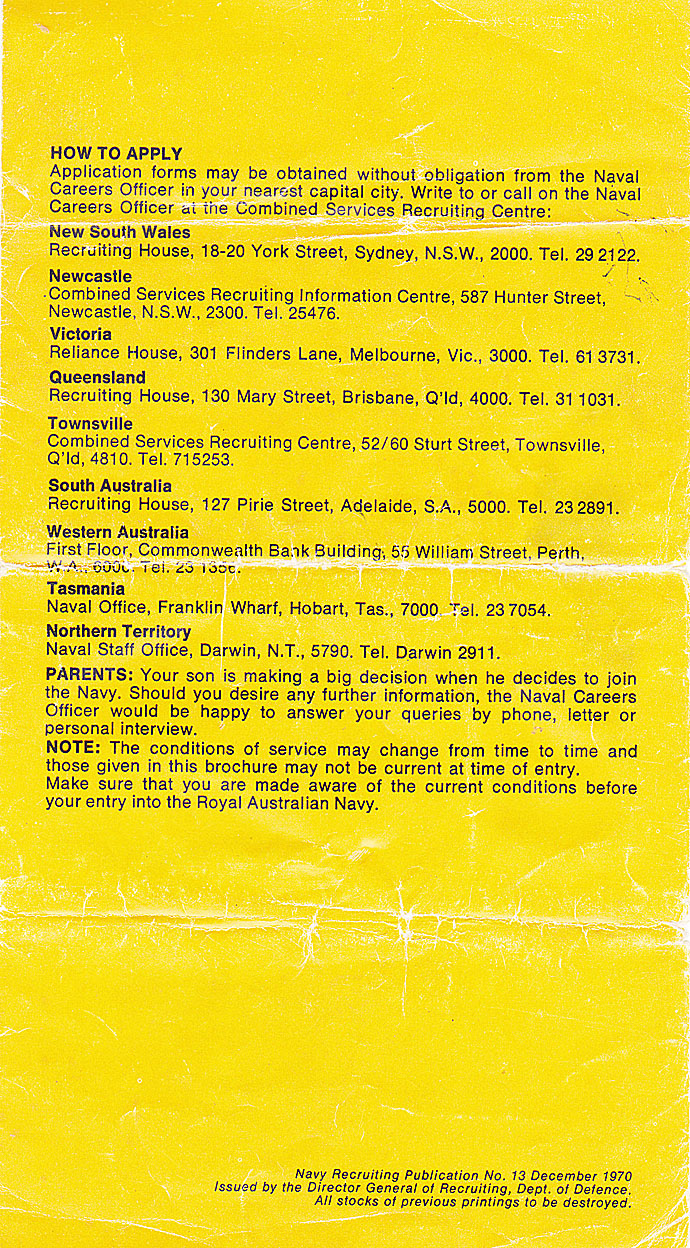 ROYAL AUSTRALIAN NAVAL RESERVE OPEN DAY, FREMANTLE, 1989
Supplied By Mick Reed
The Open days were one of many busy schedules the Fremantle Port Division Band took part in. Interesting to note they had a vacancy for a Band Officer at the time. Ken McCallum was the Drum major in the Photo.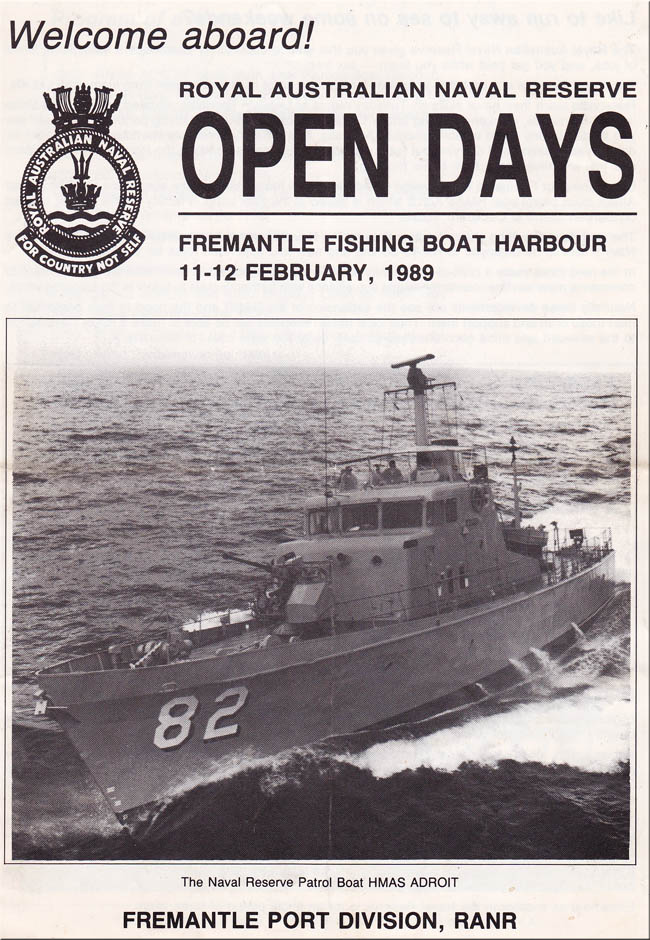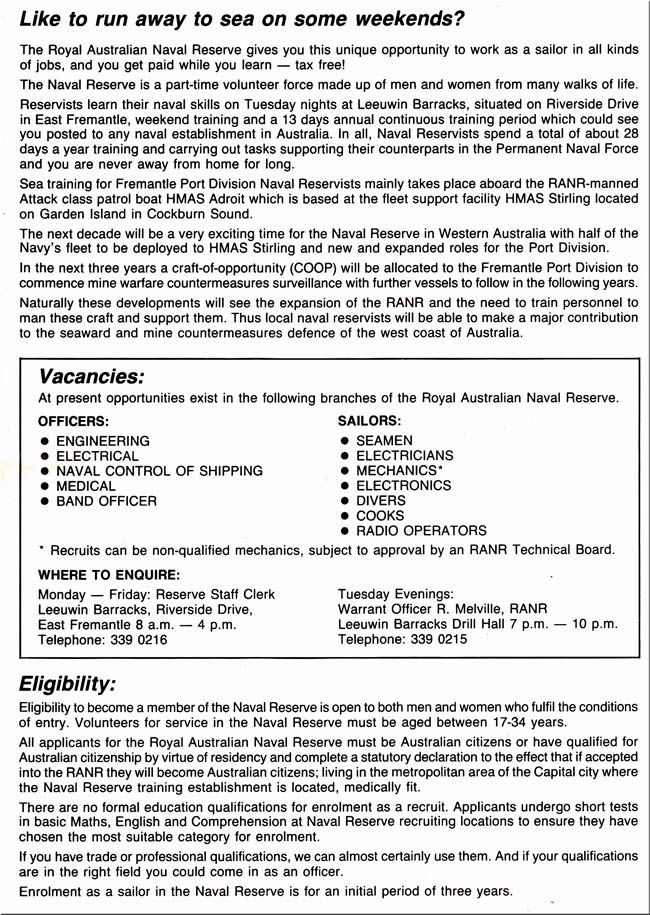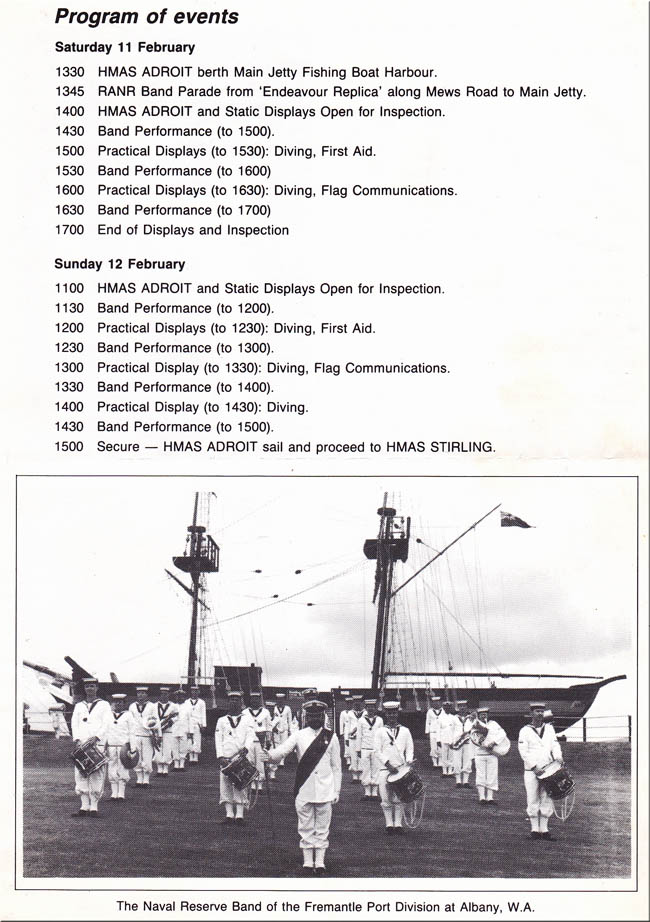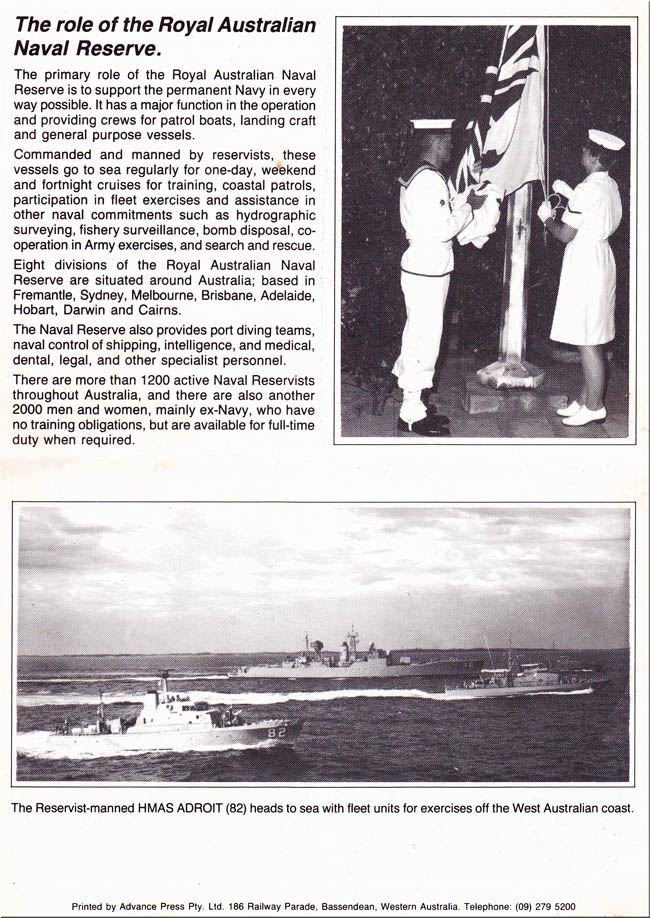 SYDNEY OPERA HOUSE OPENING 1973
Provided by Glenda Newham, January 2013.
Greg Newham's pass to have access to the Opera House for rehearsals and the final performances. Greg was on HMAS Melbourne at the time.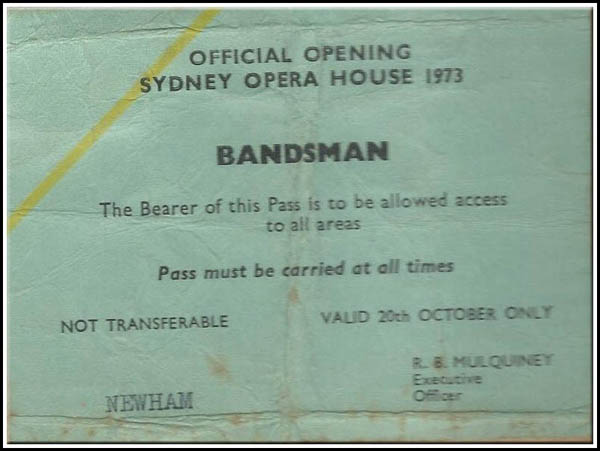 A MUSICAL EVENING, GOVERNMENT HOUSE, CANBERRA, 1981.
Provided By, Vic Knowles. (Nov 2011)
This was a quite an event and the programme was full on with a concert conducted by Lt Vic Knowles and Lt Ashley Greedy and the Beat the Retreat headed by LCR Bill Farrell, Director of Music. The signatures were the Govenor and Lady Cowen.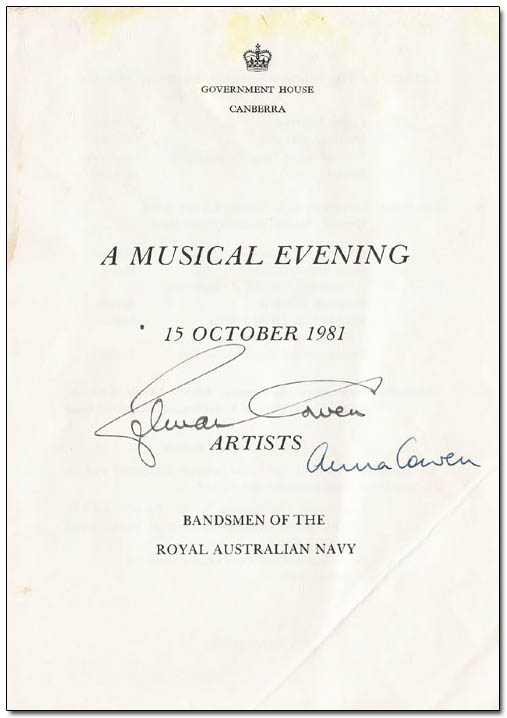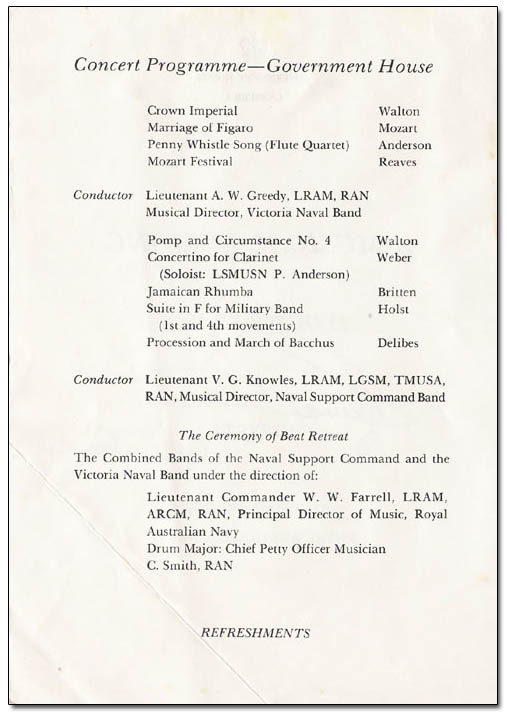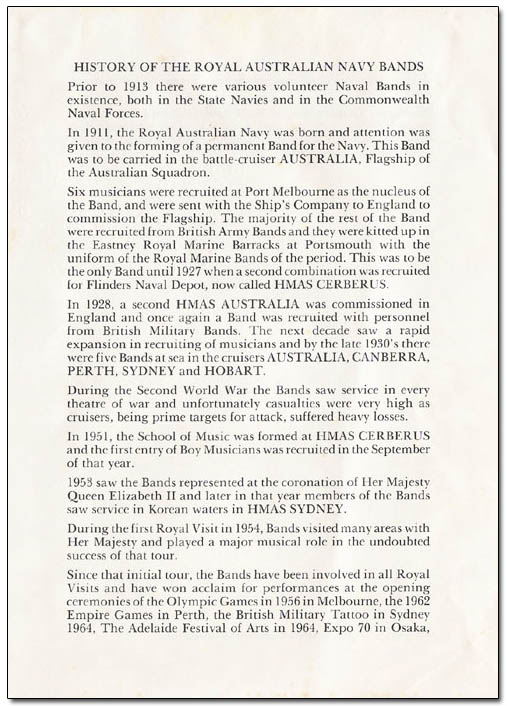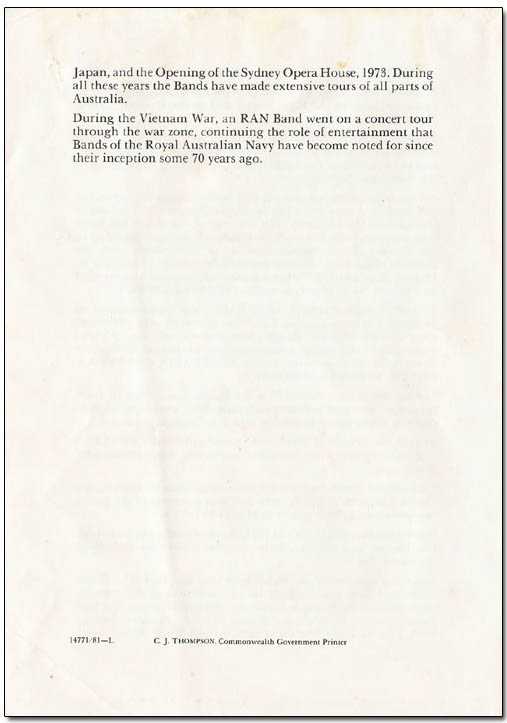 FROM Gerry Foster (Jan 2013)
HMAS PENGUIN EMBLEM
Sent through to Ralph Daines from Gerry Foster is this embroided emblem which has a bit of history. A small group of bandies from Penguin made a recording with Rolf Harris around 1969 and for payment were gifted a splendid jacket with the emblem. The jacket as Gerry say's, was top shelf quality from Evers' and Cohen Tailors and I still have it. The buttons on the jacket were unique as they were a gold plate with the Navy Crown in Sterling Silver. Gerry had a bit of design influence with the layout of the Lyre and the Ship (Penguin) in the enbroidery.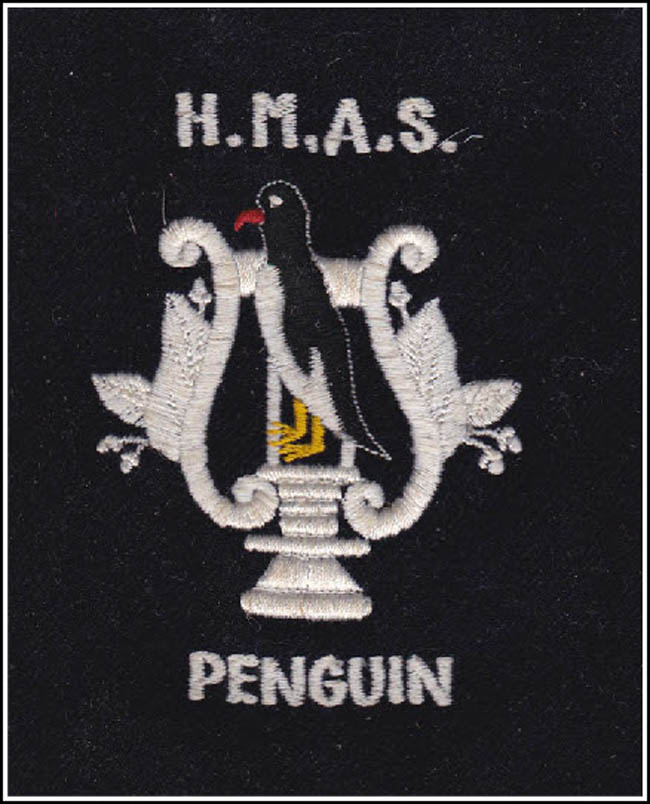 WARDROOM MESS DINNER 1977.
Provided by, Jim Hawkins (Jan 2013)
Wardroom Mess Dinner commemorating the Battle of Trafalgar 21/10/1977. The conductor was CPOMusn Alan Woodhouse.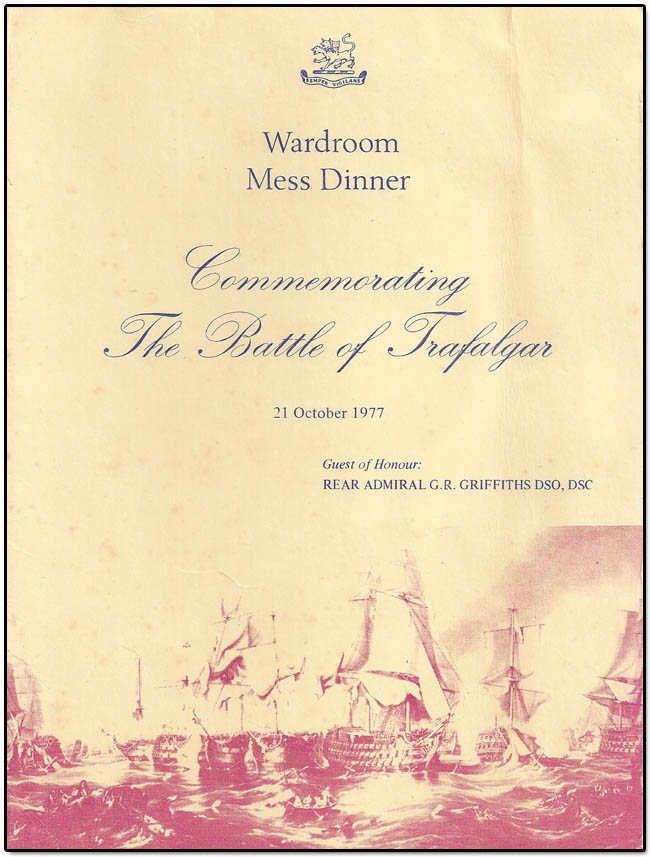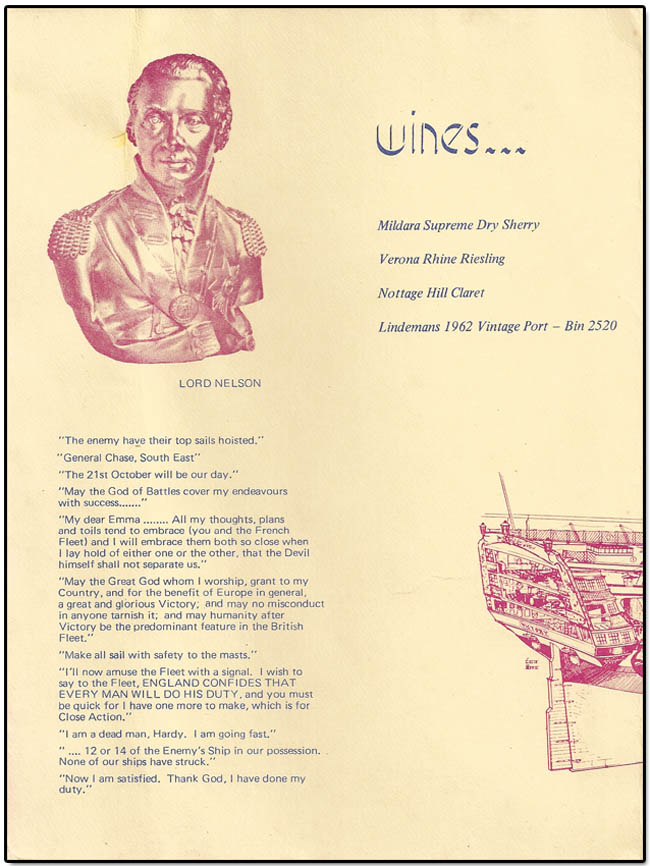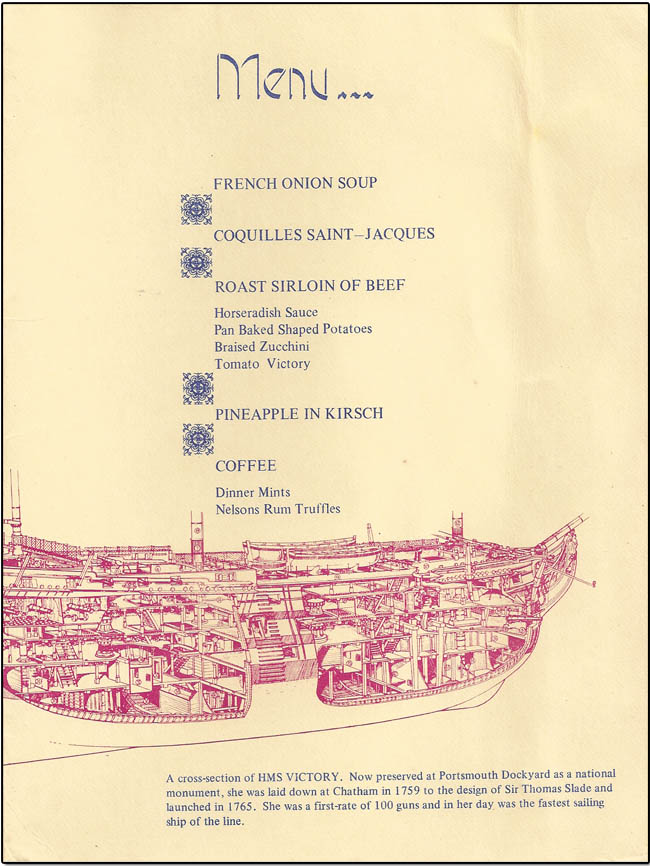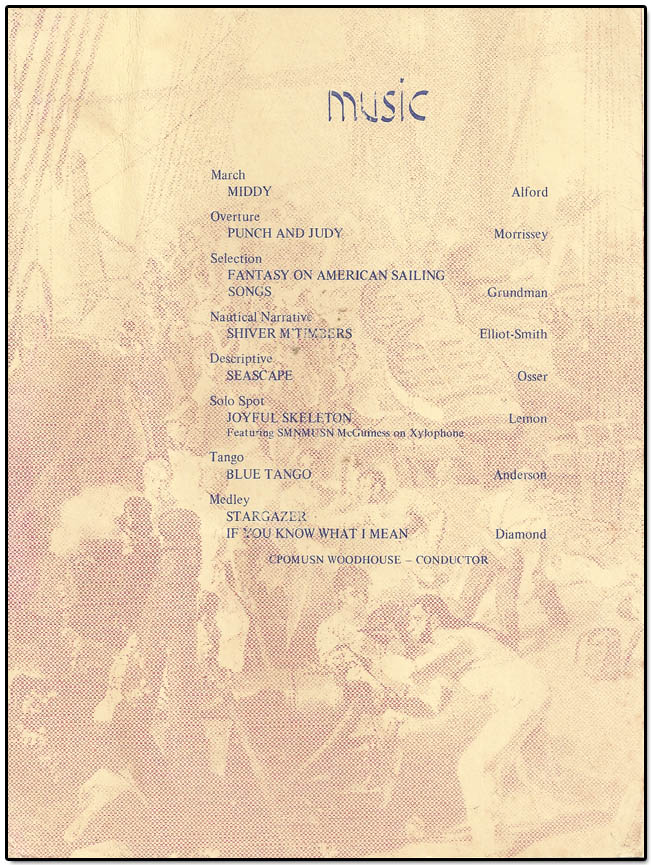 FROM ROB HIMBURY. (Dec 2012)
Drawing from gifted cartoonist and excellent clarinet player Kevin James O'Leary (Dec). The cartoon was put onto the front page copy of Rob's HMAS Melbourne - 25 years by Kevin.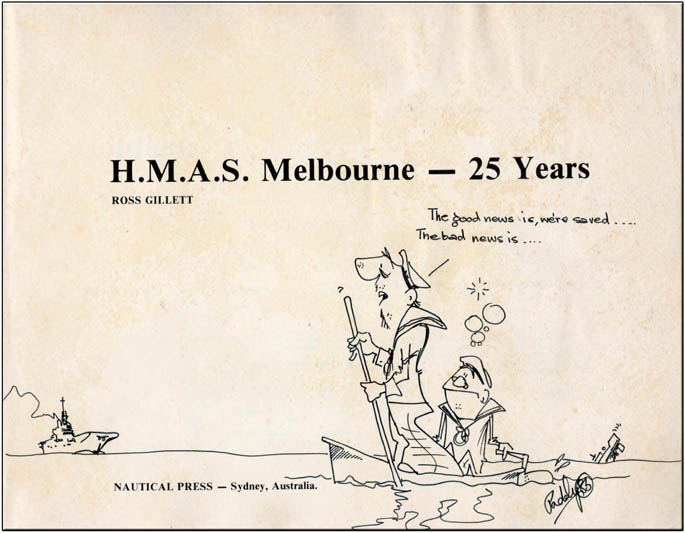 THEORY OF MUSIC
August 1970
Provided by: Errol Hatch (Oct 2012)
Its probably the only Diploma I ever got and I don't ever remember sitting for it. I do remember half a dozen of us doing lessons with Chris (Phooby) Marshall who was our theory teacher at the school, but I thought we spent most of the time listening to those bawdy recordings he was doing at the time. I think the practical side of being chucked in the deep end taught us more than a classroom.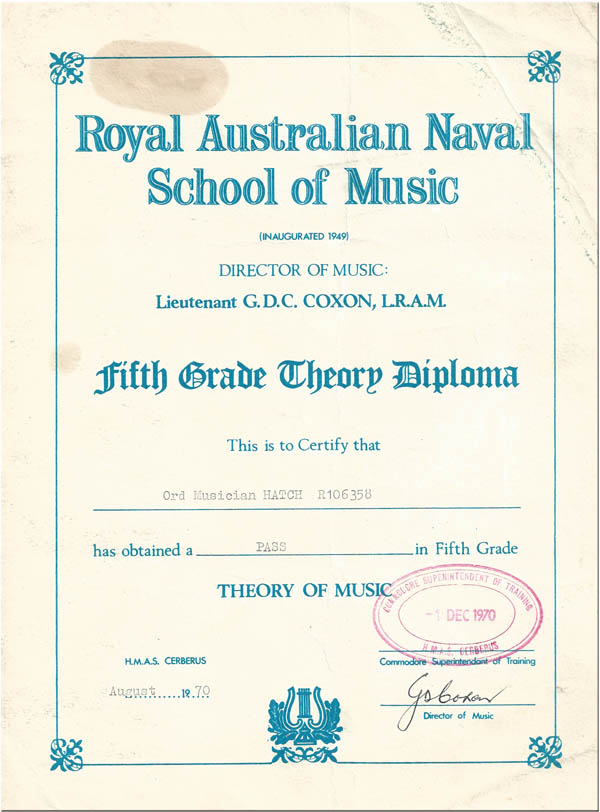 SYDNEY OPERA HOUSE OPENING
20th October 1973.
Provided By: Errol Hatch. (Oct 2012)
We all received one for participation in that very eventful and if I remember busy day. I forgot that I had it until I was going through all my old files looking for some more photo's for the site.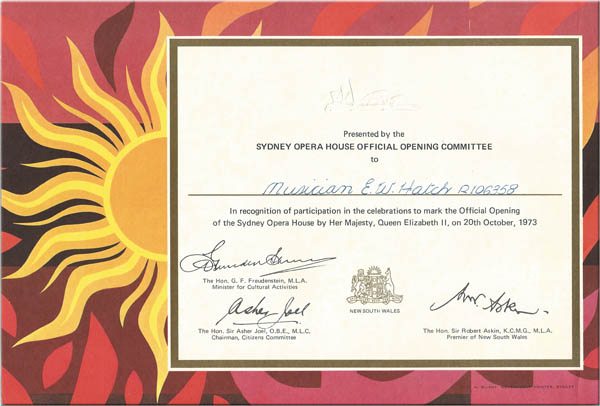 DEFENCE FORCE SCHOOL OF MUSIC
Prize Day Presentation and Concert Programme, 18th of June 1992.
Provided by, Vic Knowles. (Nov 2011)
This programme is interesting reading. Some of the names of the school staff and recipients are very familiar as are some of the awards.
The signature at the end is to Elizabeth (Vic's wife) from...........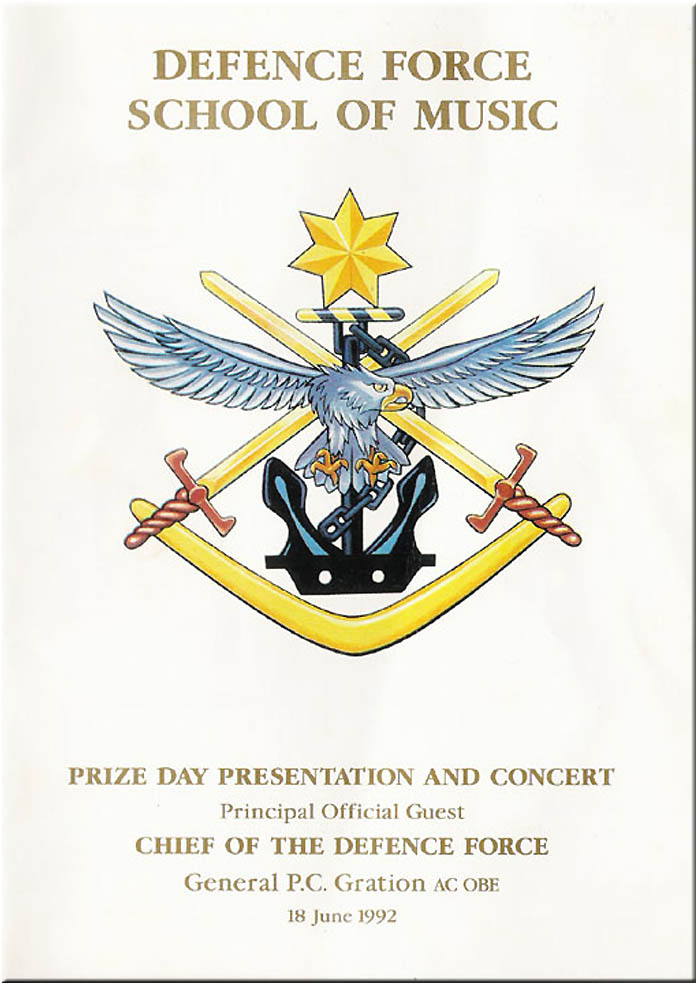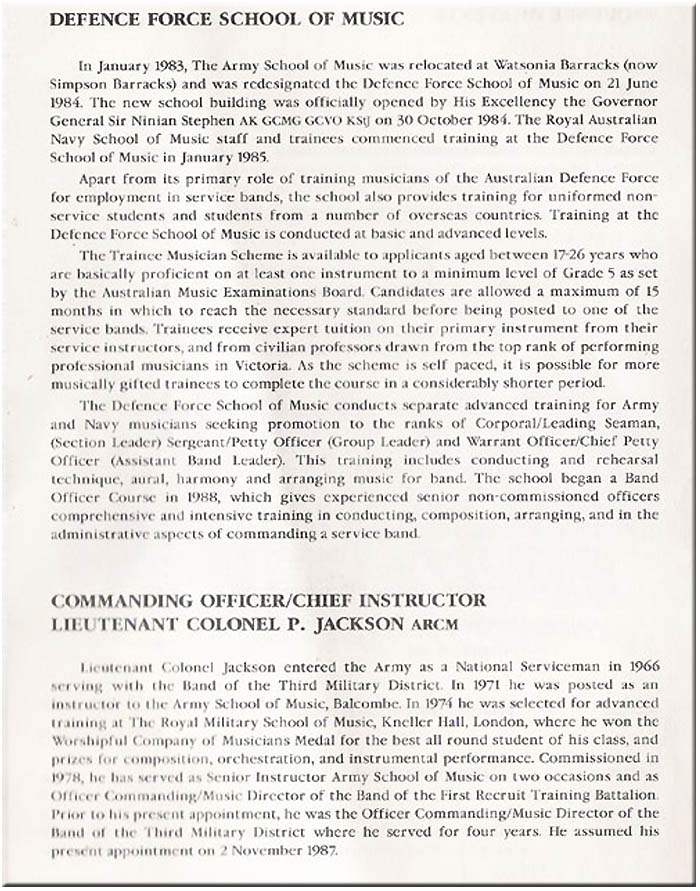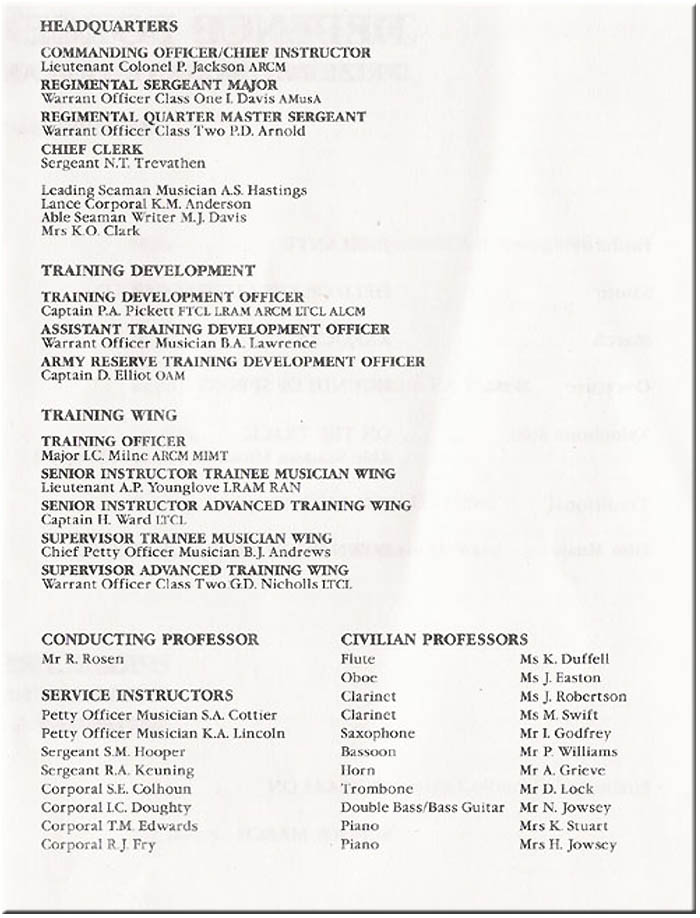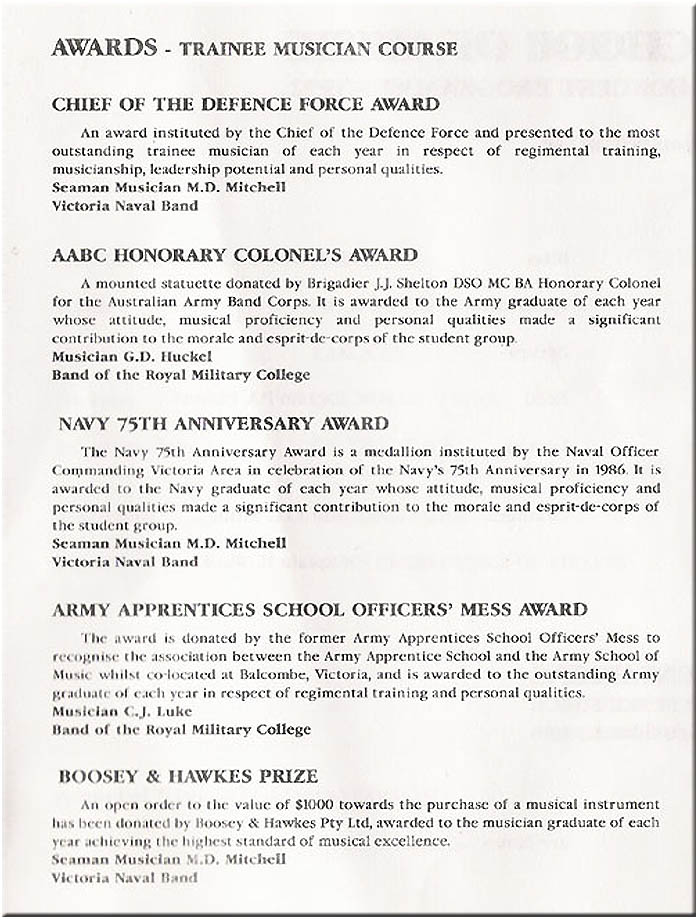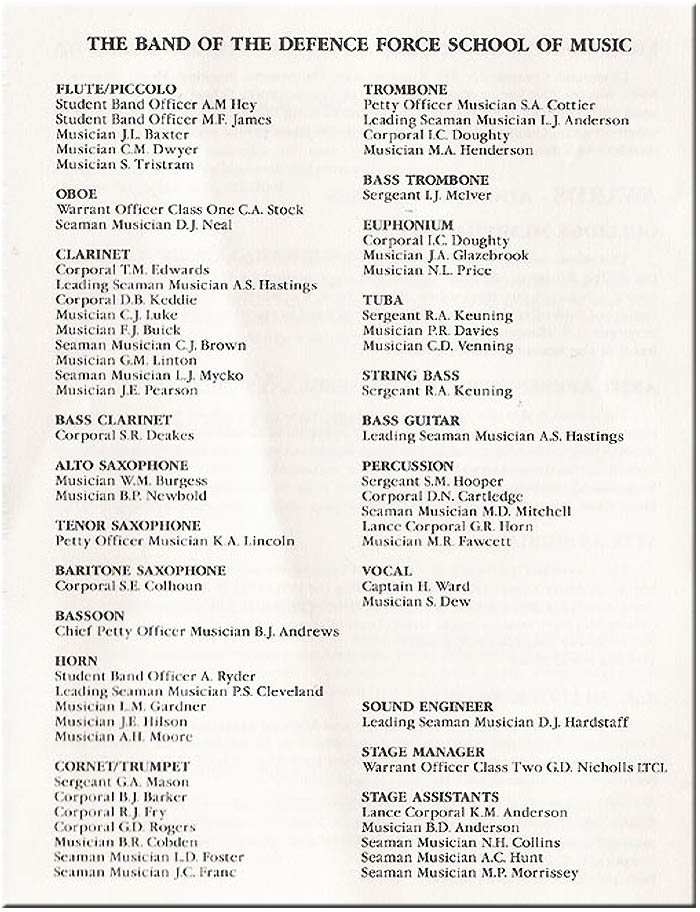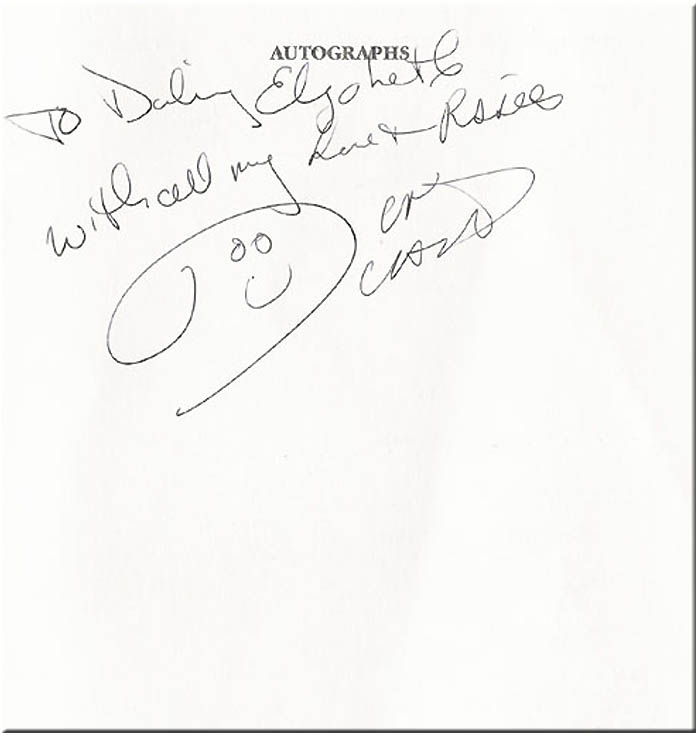 CORONATION CRUISE 1953
Tobruk Anzac Day Service. 23rd April 1953
ORDER OF SERVICE PROGRAMME
Provided By, Gordon Crompton. (May 2012)

A very significant programme kept by Gordon Crompton for nearly 60 years, detailing the service held on the 23rd of April 1953 by the Coronation contingent. A definite piece of history.
The signature in pencil is that of the curator of the grounds at the time.