NAVAL SHOWCASE 1957

Recorded EMI Studios Sydney 1957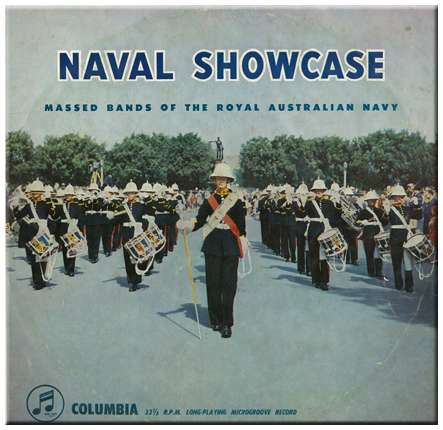 .
Original Album from Ed Thring.
LCDR George Hooker, M.B.E., R.A.N., Director of Music.
Bandsmen from HMAS Sydney, HMAS Melbourne, Eastern Australia Area, Flinders Naval Depot and School of Music made this record possible in 1957 at the Castlereagh St studios of EMI. There is no band listing on this album or acknowledgement of sound or studio engineers. The cover notes have no author.

This Album has Mp3 recordings.

The music selected for this album was a reflection of the day and the cover notes, certainly don't reflect todays political correct nature.
They part read,
If its true that "All the nice girls love a sailor," there would have been traffic jams in Castlereagh St, Sydney had the news gone around that the Massed Bands of the Royal Australian Navy were recording at the EMI studio's for three consecutive days in September, 1957.
They then go onto say,
Fortunately for our record collection, there were no romantic stampedes and the recording sessions were carried out with traditional Senior Service decorum.
Read the rest below.